The Goring and Streatley Regatta and River Festival – 17 July 2021
We are considering what to do in the light of yesterday's postponement of lockdown easing and will advise everyone once decisions are made.
The Goring & Streatley Regatta and River Festival is held every two years, alternating with the Goring Festival. Around 2000 people attend each year to watch up to 40 crews battle it out on the river in what is often a display of spectacularly optimistic rowing. It's not just rowing – there are other races too – canoeing and mini dragon boats.
All day bar, live music, stalls, food court, with a funfair, bouncy castle and amusements for children – the emphasis is on entertainment both on and off the water for children and adults. It's a brilliant day out!
Rowing starts at 9am, with all entertainments full blast from 11am. The last race is at 6pm and the fun continues with the prize giving, with the bar open to 8pm (or beyond if the barrels aren't empty).
We are strictly following the Government's and British Rowing's Covid policies, and therefore we may have to adapt the regatta to fit any changes at short notice.
Spectators
Free for children!
Tickets are available on the day. Parking is free.
Entrance to the regatta is £8 for adults and children 16 years and over.
Kids and under 16s go free, but must be accompanied by a fee paying adult.
Directions
The regatta site is located just outside Streatley on the Berkshire bank of the Thames.
By car leave Streatley heading north on the A329 Wallingford Road, keep right where a side road forks left to Blewbury, go through a width restriction and 100 meters further on turn right down a farm lane which will be clearly signposted REGATTA.
For satnav users, post code RG8 9PU will take you right to the entrance.
By boat. There are a few mooring spaces below Cleeve Lock or upstream of the regatta, around the bend towards the Beetle and Wedge.
Rowing Crews
Crews of four men or four women or two of each can participate in four weeks of training before the event and then race in a knock-out competition in stable fours, coxed by a club member. Total beginners are most welcome. If you don't have a crew, apply as an individual and we will try to create one with other applicants. Fancy dress is encouraged. The cost is £100 per crew, including the training. Contact race@goringgapbc.org.uk for more detail if you are interested.
Frequently Asked Questions
Q: Can we enter a crew of three men and one woman? A: Sorry, but we don't have a category for that.
Q: Which category should we enter? A: If you have raced before you will be Intermediate or Experienced. We will adjust crew categories in the interest of fair racing.
Q: Can we miss training sessions? A: Not if you want to win, but please attend at least three sessions over the four weeks of training we offer beforehand.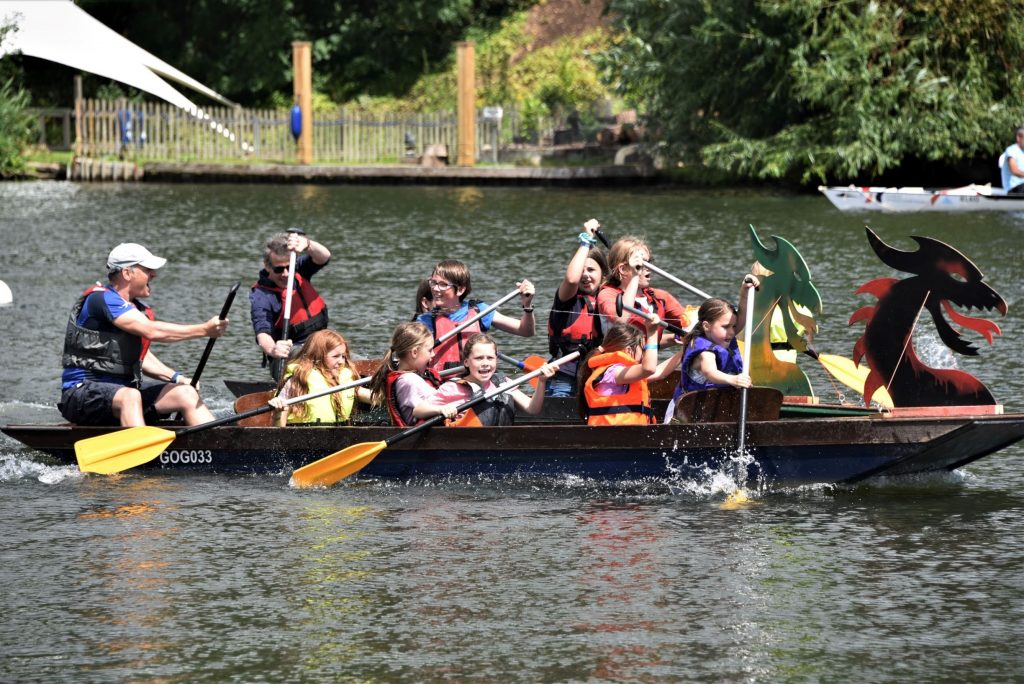 Baby Dragon Boats
This event is open to crews made up of 5 children and one adult. The children must be between 9 and 15. The races take place over 100 metres and will be run throughout the day, ending with a grand final for the Cup. All racers must be able to swim 25 metres and life jackets will be provided. Drumming is recommended.
Maximum 16 crews. Book in advance to avoid disappointment, or there may be space on the day. Entrance is £20 per boat.
Gazebos
A long tradition of the regatta is for gazebos to line the river. There is plenty of picnic space near the finish line for those without gazebos but if you want to set up a base and bring a picnic and chairs etc then book a gazebo spot and enjoy your day.
Gazebo spots are £60. All gazebo spots are now booked but we have a waiting list. Please email gazebo@goringgapbc.org.uk.

Goring Unplugged
Goring Unplugged has long been a mainstay of the Goring and Streatley Regatta. The line up is shaping up to keep our eyes on the stage (when we are not cheering on the rowing that is!).
Marketplace booking
The Marketplace area will give local organisations and businesses a great opportunity to promote products and their work in the community.
Whether you are a business wishing to showcase your products to a new audience, or a local interest group, charity or club keen to increase awareness, there's a place for you.
Booking for the Marketplace is open now. Make sure that you're the first in line and contact Madeleine Hammond at stalls@goringgapbc.org.uk or 07531 398404.