Crews from GGBC take part in some fun recreational rowing competitions, as part of the Thames Valley Explore Rowing League. These events, at local clubs such as Maidenhead, Molesey, Marlow and Kingston, are starting up again now after an enforced Covid break. We also have the opportunity to take part in recreational races that are part of clubs' larger regattas.
We row in crews of 4, usually mixed, in the stable touring boats and anyone is welcome to join in, however long they have been rowing and whatever their ability (as long as you do not have any British Rowing points).
We try to practice as a crew before each event if possible but crews are very fluid and the emphasis is on having a good day out and enjoying ourselves.  If you would like to take part in any of these events, the dates have been put on Fitclub so please do sign up and express your interest.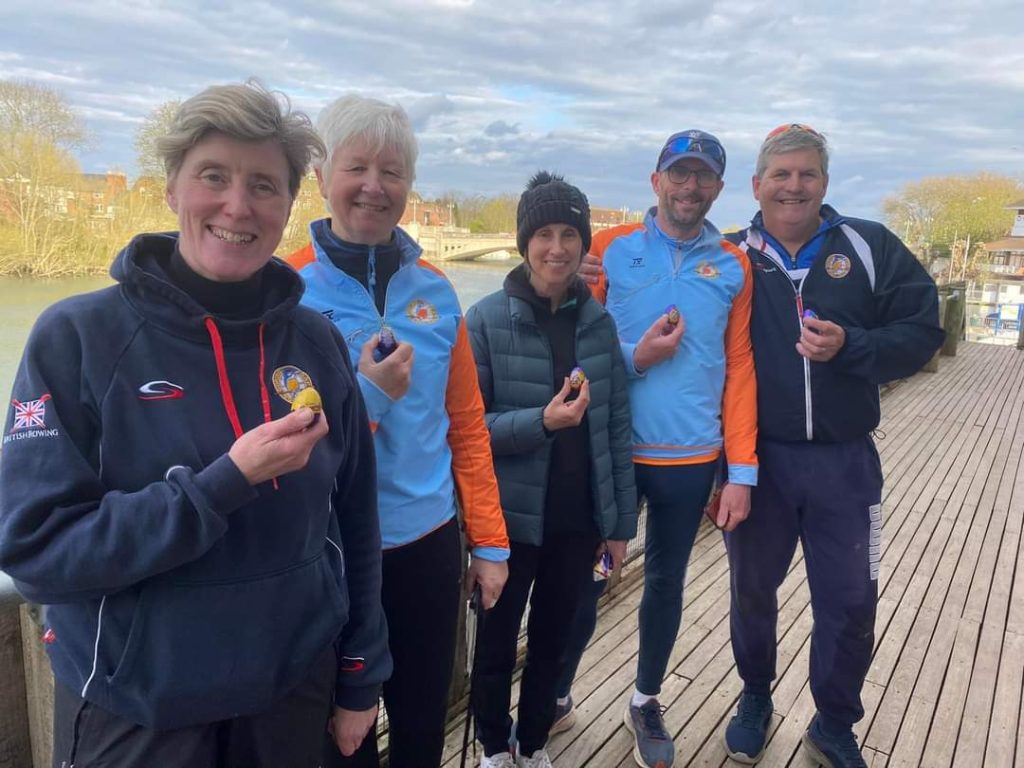 Here is a report from Roger (the cox above) on the Maidenhead event:
Now home and luxuriating in front of a nice warm fire, with a totally justified feeling of comfort deserved after the rigours of the day. When the snow started, we all anticipated a phone call saying cancelled but none came. Maidenhead are clearly made of stern stuff for when we got there, there were fours, eights, singles and doubles out the river regardless. Contrary, as per usual, to any logical reasoning, the fates decreed that more crews than ever before should enter today's event and all but one turned up, so there was a nice atmosphere.